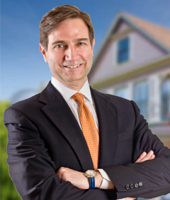 Anthony (A.J.) Funaro is CEO and founder of Brookview Financial, a leading national private mortgage lender. Established in 1992, Brookview Financial provides financing to real estate investors for the purchase and renovation of properties throughout the country.
Mr. Funaro offers over 30 years of finance, real estate, and business advisory expertise, which he and his team share with the company's clients. Before founding Brookview Financial, Mr. Funaro was a Vice President on Wall Street in private equity and mergers and acquisitions.  His office was located in Tower 2 of the World Trade Center.
While having closed numerous large transactions on Wall Street, Mr. Funaro's heart was always with the smaller investor.  In fact, the first deal Brookview Financial closed was a $10 million private equity deal (small by Wall Street standards) in Michigan, which changed the lives of the talented management team, who became owners.
As Mr. Funaro began investing in real estate for his own account, he soon realized the need small balance real estate investors had for not only the capital to fund their projects, but for advice and guidance available often only to larger institutional investors. Thus, Brookview's small balance investor mortgage lending was born, bringing smaller investors the capital and support they need. Monies earned from our large balance transactions are reinvested with our smaller balance investors.  This feels good to us.
In addition to closing several billion dollars in transactions, Mr. Funaro's other professional achievements include being a Certified Public Accountant for banks and real estate companies, a summa cum laude graduate of Boston College, and a graduate of Columbia University's School of Business (MBA).
Mr. Funaro is passionate about empowering entrepreneurs and helping them succeed.  When time permits, he speaks to real estate and entrepreneurial organizations throughout the country.  Mr. Funaro also volunteers his time to various community endeavors.